As per TMZ, Michael Jackson's 13-year-old football playing daughter is being recruited to be the face of an organization that swears it's helping break down barriers for women … problem is, it's the Lingerie Football League.
TMZ has learned .. the LFL took notice when Paris Jackson became the first female in her L.A. private school to join the flag football team earlier this month … and fired off a letter to the MJ Estate in the hopes PJ would be the spokesperson for the league's "youth program."
In the letter, obtained by TMZ, LFL Commissioner Mitchell S. Mortaza acknowledges a "lack of options for competitive female football" … and says the league will "be introducing youth clinics across the country to introduce the game of football to young ladies at an earlier stage in life."
Mortaza adds, "We … would like to invite Paris to become the spokesperson for the LFL's youth program and perhaps start training for a future football career in the LFL when she reaches the age of 18."
According to MTV Taylor Swift is a T.I fan. Taylor Swift: "I'm a huge hip-hop fan,  (T.I. is my favorite) and it's been so amazing to have so many incredible artists come out and to get to sing the hooks on their songs that I've been blasting in my car for the last couple years," Swift explained in an interview. "It's been awesome. I couldn't have asked for more amazing special guests on this tour, and we're not finished yet."
I'm totally not buying! Swift gets a major side eye from LadySteele….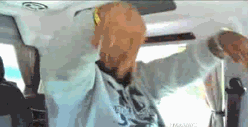 As per SOHH and AllHipHop.com Dj Khalid gave us an update on Rick Ross who made headlines last week after suffering 2 seizures a couple of hours apart. DJ Khaled: "I am not leaving Rick's side. He is resting, he is chilling and he is actually super focused. He is at the crib and is going to rest and just chill until he gets his energy back. He is going to take everything one day by day," Khaled told Simmons. "I told him he has to stay home for two weeks. I told him he has got to just chill and reIax. I told him he is a big enough star that he can just stay home. His life is more important…When he went in the hospital that was a reality check. I'm trying to tell him, but he's telling me, 'Khaled you ain't got to tell me no more, I understand clearly I got to take my life seriously.'"